| | | |
| --- | --- | --- |
| June 11, 2016 | | WPSS Picnic, Casa de Fruta, Hollister |
| September 8, 2016 | | WPSS Luncheon, Steer 'n Stein, Hemet |
| October 8, 2016 | | WPSS N. Luncheon, China Buffet, Citris heights |

It is with great sadness that we announce the passing of:
Gene W7POR
Ralph KG6UUF
5-24-2016
---
WPSS Picnic
This year's Picnic will be held in Hollister at the
Casa de Fruta | June 11, 2016
Lunch begins around noon | Drawing around 1 PM
Talk-in Frequency: 145.470 -94.8 on KE6J repeater
If you need an RV space, call Lisa at 800:548-3813
Opportunity tickets are now available
See rules for details
Prizes Galore and a chance for that rare face to face QSO
map | prize list | rules
---
---

Early monitoring begins at 1800 (6 p.m.) Local (PST or PDT)

Roll call

commences at 1930 (7:30 p.m.) Local (PST or PDT)
Late monitoring begins at the end of roll call and continues until?
- top -




The Western Public Service System (WPSS) invites you to check in to the net at anytime. You do not need to be a member and we will welcome you as a visitor. Once you have decided to be a net member, your call will be added to our roll call, which currently has over 400 stations in the western states.
Beginning membership dues are $10.00. This includes the WPSS Newsletter, which you will receive three or four times a year. After the first year, dues are $8.00. Dues may be submitted for multiple years if desired. Renewals for the current year paid after January 31st are $10.00.
Your renewal date is noted on the mailing label on the newsletter and in the membership list on this website. See Member Listing.
To request information and/or enrollment please contact any roll caller, or:
Toby Mort - W6PXD
Membership Chairman
28255 Rawlings Road
Hemet, CA 92544-8314
e-mail morttojo@aol.com
Send
membership renewal
dues to:
Dave Wheelock - K6DAW
Treasurer

750 West Kanai Avenue
Porterville, CA 93257
e-mail
k6dawdave@gmail.com
Make Checks payable to:
Western Public Service System

- top -
Updated Roll Call 5-30-16
Updated Member Listing - 5-29-16
Added Hemet Luncheon Photos 3-26-16
Updated Net Control Stations 3-22-16
Updated Birthday List 1-1-16
WPSS Newsletter 11-10-15
- top -




Updated 3-22-2016
printable version (pdf)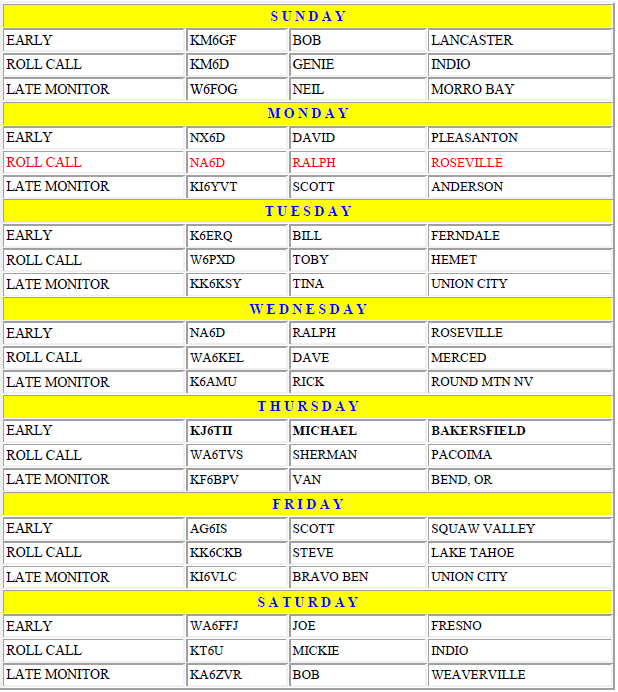 - top -

webmaster: webmaster@3952khz.net