| | |
| --- | --- |
| September 17, 2015 | WPSS Fall Luncheon, Steer n' Stein, Hemet |
| October 10, 2015 | WPSS Northern Luncheon, Citrus Heights |


It is with great sadness that we announce the 8-23-15 passing of:
Memorial service
Monday September 14, 2015
11:00 a.m. - 3:00 p.m.
White Emerson Memorial Home
13304 Philadelphia St.
Whittier, CA 90601
Board of Directors - 2016
The following positions will be open:
President
Vice President / Net manager
Treasurer
Four Directors
Nominating Committee
WA6KEL Dave (Chairman)
KK6CKB Steve
W6FOG Neil
W6GF George
KK6IEE Dale
WB6NVT Michael

Deadline for nominations: October 1st
Interested in running for one of the above positions or nominating someone for office? Contact Nomination Chairman Dave at sdwillson184@gmail.com
Picnic Photos are posted
Congratulations to the 2015 Picnic prize winners
prize winner listing

Early monitoring begins at 1800 (6 p.m.) Local (PST or PDT)

Roll call

commences at 1930 (7:30 p.m.) Local (PST or PDT)
Late monitoring begins at the end of roll call and continues until?
- top -




The Western Public Service System (WPSS) invites you to check in to the net at anytime. You do not need to be a member and we will welcome you as a visitor. Once you have decided to be a net member, your call will be added to our roll call, which currently has over 400 stations in the western states.
Beginning membership dues are $10.00. This includes the WPSS Newsletter, which you will receive three or four times a year. After the first year, dues are $8.00. Dues may be submitted for multiple years if desired. Renewals for the current year paid after January 31st are $10.00.
Your renewal date is noted on the mailing label on the newsletter and in the membership list on this website. See Member Listing.
To request information and/or enrollment please contact any roll caller, or:
Toby Mort - W6PXD
Membership Chairman
28255 Rawlings Road
Hemet, CA 92544-8314
e-mail morttojo@aol.com.
Send
membership renewal
dues to:
Dave Wheelock - K6DAW
Treasurer

750 West Kanai Avenue
Porterville, CA 93257
e-mail
k6dawdave@gmail.com
Make Checks payable to:
Western Public Service System

- top -
Updated Roll Call - 8-24-15
Updated Member Listing - 8-23-15
Updated Birthday List 7-1-15
Added Member Photo 6-18-15
Updated Net Control Stations 6-3-2015
WPSS Newsletter 11-5-14
- top -




Updated 6-3-2015
printable version (pdf)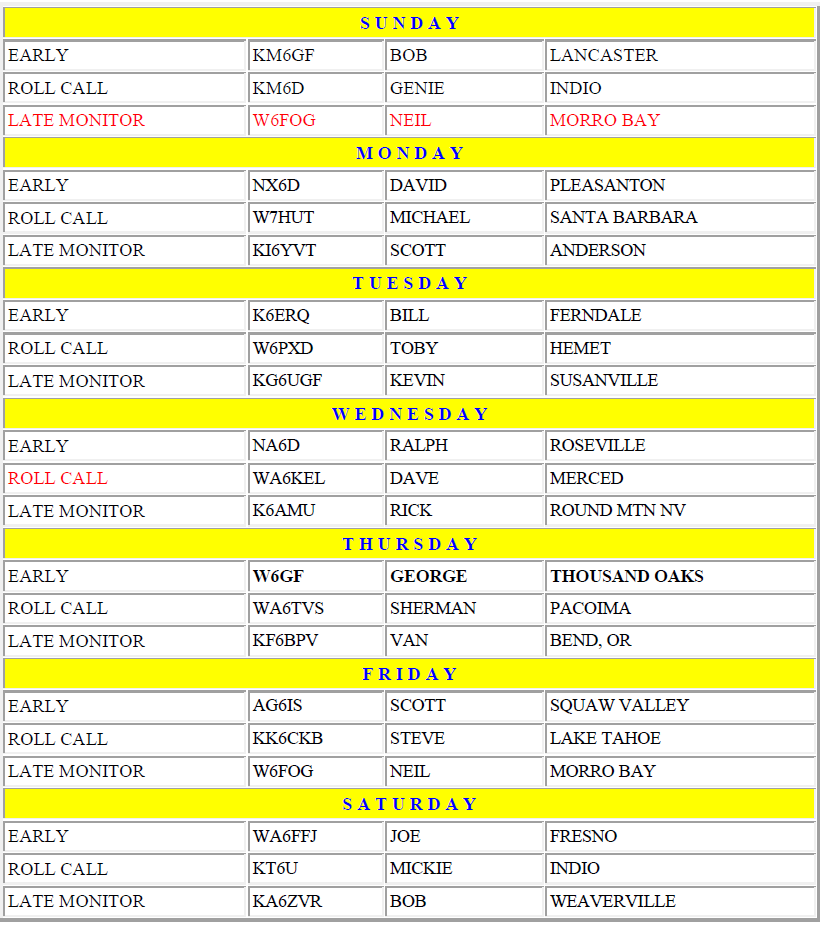 - top -

webmaster: webmaster@3952khz.net